The company
Bizarre Design was founded in 1987 out of passion for the corset. I love the shape, I love the effect it has on the person and I love the making and designing of them.
BizarreDesign is a small company, it always has been. all the corsets I sell are made by me, one by one, piece by piece .
That has it advantages, you can talk to me and make all kind of ideas change into reality color, shape, material, extra features as long as it is possible to make/get, it can be done
It has also its draw backs. the delivery time can run up, depending on how many orders are coming in. the production is limited and elaborate designs can take a long time to make and a lot of those make can make a long waiting list !
Most of the corsets from BizarreDesign are made to order, that can be either, custom made, made to measure or in standard ( confection ) sizes.
These are the more basic corsets, corsets made in all the suitable materials and if wanted with the more basic decorations. the corsets are made from existing patterns in the different sizes, are finished in one go and are delivered. The quality of the corsets is the same as the other options, but I'm working from fixed patterns and the possibility to alter the shape of the corset and/or add all kind of extra's is very limited.
With these corsets more options are open, not only are the corsets made to measure, ( sizes are taken or sent in, the pattern is especially made for you and there are possibilities for fittings so the corset will fit for a 100% ). Also the shape of the corset can be altered according to your ideas, a lot of extras can be put on the corset for decoration or functionality and the finish can be made as elaborate as you want it to be. The prices for a lot of extras can be found in the price list ( not the photo prices ). If you can't find it on this site ask me, if you have an example, picture or drawing show it to me and I can surely make something similar. Another option is the ornamental material. if you have a special way the corset should look, for instance it should match something you already have, you can deliver your own material to make the corset. This material will be lined with a suitable corset material to create a sturdy base for your corset. Almost all fashion materials will do fine, also stretch materials. keep in mind that very fine materials will get damaged soon and so will be the corset. The material is integrated into the corset and can not be removed.
Well we have to talk about this one! Come with your ideas, pictures, drawings or combinations of them all and I will see if I can make it. The custom made corsets can range from beautiful corset gowns up to restrictive total body corsets. I'm not saying that I can or will make everything, what I do say is that I will look at it and with all my experience will tell you what is possible and what is not. What the problems are, what solutions I see and I will warn you for unforeseen effects. Not all things imagined on the internet are possible or will even work. I don't have a factory behind me, so specialty machine made items are impossible for me to integrate into the corset unless you can show me where to obtain them or if you can deliver them yourself.
---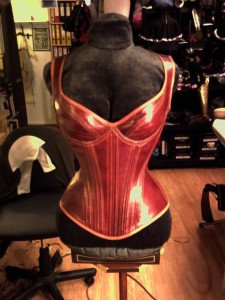 ---
my main product are corsets but I also make the things around it to make the outfit complete. the corsets can go from small belt corsets (waspies) too total body corsets which run from to top of the head till the tip of the too. but also corset dresses, (a dress with a corset as the body) or all kind of bondage corset designs are possible. well look in the galleries here.
In general you can say as long as there are boning's in it and a lacing then it is up my alley.